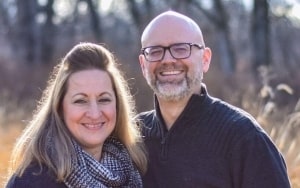 Born and raised in Indiana, Keith Waggoner attended God's Bible School & College in Cincinnati, OH, and graduated in 1999 with a BA degree in Church Music with a minor in Bible and Theology. While attending college, Keith cut his teeth on youth ministry as well as being part of an urban ministry in downtown Cincinnati. Keith's ministry background is diverse featuring stints as a youth pastor, worship pastor, choir director, and touring with a Christian band.
In August, 2011, after five and half years of touring the country with Liberty Quartet, Keith accepted God's calling to Grace Bible Church in Nampa, Idaho as Lead Pastor. Since that time the church has grown exponentially, planted a church in Smiths Ferry, Idaho and is getting ready to launch a brand-new church plant in Middleton, Idaho.
Keith's greatest joys are pastoring people and making disciples. In addition to his ministry at Grace, he mentors several pastors both locally and nationally and does everything he can to encourage and build into the "big C" Church regardless of denominational affiliation. His insistence that the Church is not a location, destination or organization but rather a people transformed by the saving power of God through Jesus Christ with a mission to live out their faith tangibly is impacting ministry both in the Treasure Valley and around the world.