Greetings!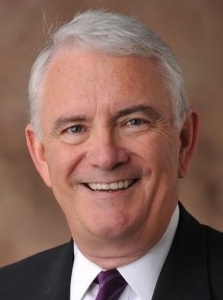 I'm pleased to inform you that Dr. Dennis Crocker has accepted a job offer to serve as Vice President of Academic Affairs effective July 1, 2020. Mr. Christopher Sumpter has been serving in that role for the past three years while also carrying the duties of Registrar. Mr. Sumpter will remain with KCC and will serve as the Registrar and will have other duties in the organization that are yet to be determined. We are extremely grateful to Mr. Sumpter for his exceptional service in the role of Vice President for Academic Affairs. His attention to detail, commitment to quality, and love for our students have been evident. He and Dr. Crocker will make a great team in our academic office.
Dr. Dennis J. Crocker was born and raised in Michigan. He is an Ordained Minister in the Church of the Nazarene and has served churches in Michigan, Missouri, Illinois, and Kansas. He completed a bachelor's degree at Olivet Nazarene University, a master's degree at the University of Michigan, and a doctoral degree at the University of Missouri-Kansas City.
His career in Christian higher education has extended over 30 years at MidAmerica Nazarene University, Bethel College, and Olivet Nazarene University. His roles have included professor, department chair, associate academic dean, dean, and Vice President for Academic Affairs. At MNU he helped secure initial and continuing accreditation with the National Association of Schools of Music. In addition, he helped envision, plan, and realize the construction of the $12 million Bell Cultural Events Center.
He and his wife, Jeannie, were married in 1977. They live in Olathe, where Jeannie is completing her 23rd year as an elementary school nurse in the Olathe School District. They have three children and three grandchildren.
We are excited to welcome Dr. Crocker to the campus community!
In His service,

Chad Pollard
President