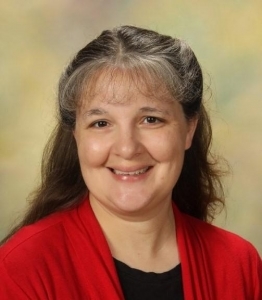 Aimee Askew graduated from Kansas Christian College in 2002 with a degree in elementary education. Her Master's degree, from Webster University in 2015, is in Education and Innovation. She has taught at Overland Christian School a total of twelve years, teaching preschool through second grade and serving as part of the administrative team. She has also supervised the education practicum and student teaching courses for KCC for the past 4 years. For the 2020-2021 school year Aimee will be assuming the position of preschool director for the OCS Eagles' Nest, a position Mrs. Cheryl Carpenter has served in for ten years.
When asked what she enjoyed about OCS, she replied, "I love working at OCS because I want to see children make decisions for Christ at an early age. I also love to teach them God's Word as well as a biblical worldview in all of their subjects. I enjoy working in the close family atmosphere of OCS."
Aimee and her husband, Kevin, pastor New Journey Church. She serves as a children's Sunday school teacher as well as wearing the many hats of a pastor's wife. In addition, she has been the director of Harmony Hill Kids Kamp each summer for twelve years.
Aimee, Kevin and their three children, Caden, Ian, and Addie, enjoy doing outdoor activities together.