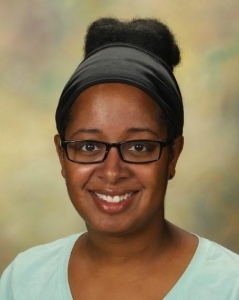 Ms. Marion Ross received her degrees from Kansas City Kansas Community College and University of Missouri-Kansas City. Her first five years of teaching was at Muncie Christian School, where she had attended from kindergarten through 12th grade. After the Muncie school closed in 2012, she came to Overland Christian School as the 3rd/4th grade teacher. In addition to teaching, she serves as the OCS Athletic Director.
She says, "I had many memories of playing and coaching against Overland Christian while at Muncie, so it's surreal to now be the Athletic Director for OCS. Athletics has always been a passion of mine and I'm grateful for the opportunity to use athletics as a ministry. Becoming a part of the OCS/KCC family has really been a blessing. I'm so grateful for the friends/family I've gained here."
She enjoys time at home with her sister, Sarah, and her fur babies – Brandi, a St. Bernard mix, and Sapphire the cat.