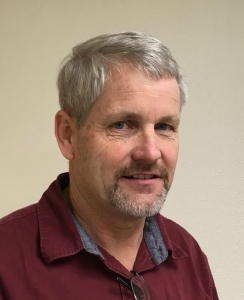 Kansas Christian College is pleased to announce the recent hiring of Tony Askew as Assistant Director of Facilities. He is a 1986 graduate of KCC with a major in Elementary Education. He and his wife, Barbara, are the parents of four children, Nikita, Caleb, Danika, and Devon. They have been involved in Christian education, working with young people most of their married lives.
Being a man of vision and talent, Tony has had a very colorful job history. His academic positions include teacher at Fort Scott Christian Heights, administrator and teacher for nine years at Kirksville Christian High & Elementary and Raggedy Ann & Andy Preschool,
instructor of HiSET classes at Moberly Area Community College, and men's basketball coach for Central Christian College of the Bible.
Tony and Barbara served as youth leaders and Junior Church directors at Kirksville Church of God (Holiness), and Family Life pastors at the Nazarene church in Spiceland, Indiana.
Community positions have included City Council member, mayor of Atlanta, Missouri, for 10 years, firefighter and chief of Atlanta Volunteer Fire Department, and certified First Responder.
While attending KCC and throughout his life Tony has been involved in construction work. As owner of Rock Solid Construction, he is a licensed contractor, electrician and plumber. Recently he has managed the construction and maintenance of a 150+ apartment rental business. He is also currently a real estate agent.
Rounding out Tony and Barb's job experience is owning and operating a health food store and a preschool/daycare center.
We are excited to add Tony to the KCC team. His passion for Christian education is evident and his strong leadership skills and extensive experience in the construction industry will prove to be valuable as KCC and OCS continue to move forward.