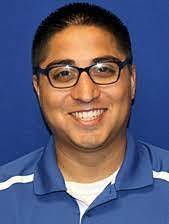 Kansas Christian College is pleased to announce 
Jaime Cuellar
 as the next head men's basketball coach. Cuellar replaces John Janssen, who resigned after the 2020-21 men's basketball season.
Cuellar is originally from Alvin, Texas, and brings significant experience to the men's basketball program. Cuellar played high school basketball and golf at Texas Preparatory Academy before earning a scholarship to Mid-America Christian University. After playing one year at MACU, he transferred to St. Thomas University in Houston, Texas. and redshirted. Cuellar then transferred to Southwestern Christian University to earn his undergraduate degree and played three years with the golf team. He earned a master's degree from Langston University in 2013 and is set to complete a Doctorate in Business in August of 2021.
Cuellar has worked in various capacities with the National Basketball Association (NBA). He worked with the Oklahoma City Thunder from 2008-2013, then spent 2013-2014 with the Houston Rockets. Cuellar also served as an assistant women's basketball coach, head men's and women's golf coach, and a full-time faculty member at Southwestern Christian University. He served as the Athletic Director at Calvary Chapel Christian School in Las Vegas, Nevada as well.
Kansas Christian College athletic director Dr. 
Jim Poteet
 spoke about Cuellar, saying, "We are excited to bring in someone with the experience Jaime has. He has experience working in faith-based institutions like ours and has ties to professional basketball. We are excited to see the great things Jaime will do with our men's basketball program." Cuellar will also serve as an admissions specialist at Kansas Christian. "I want to thank Dr. Poteet and President Chad Pollard for giving me the opportunity to lead the men's basketball program and work in the admissions department. I'm excited about the direction in which the college and basketball program are headed and look forward to continuing that success in my time here at Kansas Christian," Cuellar said.