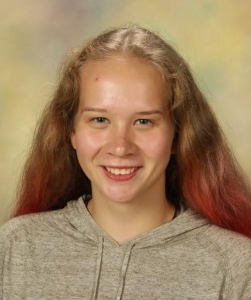 From Russia to Overland Park, Kansas–this is the journey of KCC student Daria "Dasha" Nikolayevna Korovina. When she arrived on campus she was nervous about her English but was open and ready to learn. Her faith was almost nonexistent. Although she believed that a God created the universe, there- was no relationship or even reason for a relationship with God in her mind. Because her journey led her to KCC, all that has changed. God was faithful in revealing Himself to her, and she is now a true believer, making plans to be baptized.
Even though this is Dasha's first year on the campus, she has already been such a blessing to the school. Aside from a strong and growing faith and relationship with Christ, Dasha also has a huge servant's heart. She works three jobs around campus, participates in multiple sports, and serves her freshman class as STUCO class representative, all while making satisfactory grades. Integrity, reliability, and commitment are very evident strengths, which make her a huge asset in all of her activities.
This is Dasha's testimony in her own words: "Before I came to KCC I didn't know much about God, and didn't really believe in Him. Here I understand that He is real and it's so amazing to be His daughter. Here at KCC you hear about the Lord in every situation and start to become interested. Questions naturally start coming up and I can safely ask them to any of my teachers here. Also the ministry students are very open to answer questions and help me learn who Jesus is. The biggest thing is that everyone here is almost strangely friendly, and when I ask, 'Why are you being so nice to me?' they say because the Lord is good and tells us to love others. After being here and learning, I can clearly hear the Lord speaking to me and recognize His voice which I never heard before. I want to study more and more about Jesus and I really want to show my family and friends how God is so good. One of my favorite verses is Joshua 1:5, 'No one will be able to stand against you all the days of your life. As I was with Moses, so I will be with you. I will never leave you for forsake you.' This verse helps me not to give up and not to be afraid because I know now that God is always with me and He will help and protect me."
She started out being very curious as to why the KCC "family" cared about her and why they were "so nice" to her when they didn't even know her. Now she is the one that cares so much and is "so nice" to others, all because she has found her identity in our Lord.